Hi! We're Liza-Marié and Bernhard Karshagen.
Meet our beautiful family here at Ubuntu Ayni.
Originally from South Africa with a background in corporate consulting, we first embarked on our spiritual journey with plant medicine back in 2007. After this initial profound experience of spiritual awakening, we both felt a big change was needed. We decided to sell everything and started traveling around South America, which lasted one year. This was a time to reflect on our life and work more with plant medicines, also enjoying and falling in love with the South American continent.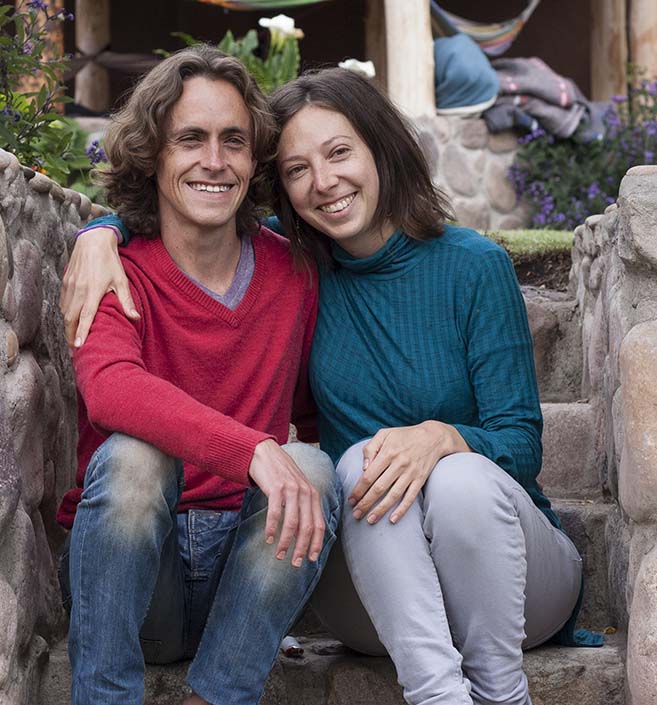 In early 2010, we decided to make the permanent move to Peru due to a deep call from Spirit to continue working specifically with San Pedro. We have been living full-time in the Sacred Valley since then and both our children were born here in the village of Huaran, in our house.
For a long time it was our dream to have a small retreat space for people to come and work with the medicine. At first, we received guests in our 4 bedroom house and held ceremonies in our backyard. However, after the birth of our daughter, it became clear that we needed a separate house for our family. One thing led to another and we bought a piece of land where we built a house for our family and a house for our guests. It is a beautiful and homely space and the best part is that we still get to hold ceremonies in our much bigger backyard!
We both have a passion for travel, food, gardening, cats and good music. And of course, chocolate!
Tika & Pi
Tika and Pi are the two resident Ubuntu Ayni cats. Tika is a Siamese medicine cat, known to regularly participate in ceremony. Pi is the blue and green-eyed playful youngster of the two. Both of them spend time with people in the ceremonial space and are excellent nurses.